Build Your Brand with the Power of Print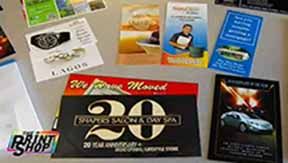 When it comes to business communication materials, we're the experts. The Print Shop specializes in helping you build your brand through cohesive, professional corporate identity pieces. We work with you to design your brand and then print it on anything your company needs. 
From banners to binders to promotional items and more, The Print Shop creates all the materials to establish your brand, spread the word and make an impression. 
We are also well-versed in developing print materials for events, teams and any other occasions that call for printing. Explore the links below to see the variety of print materials we can create for you. To inquire about specific products and services, please contact us.
Products
Services